Lego Building Block Towers to the Ceiling
This post contains affiliate links, which means I receive a commission if you make a purchase using this link. Thank you for your support.


Growing up my children loved Legos! I loved playing Legos with them. While the younger kids were busy creating small buildings or different creatures, my older kids were having a Tallest Building competition. They would build as high as they could until the Legos ran out and then came the pleading for more Legos from the youngest child's creation. When all were convinced that they should build together, it happened. The Tower from floor to ceiling. It was a masterpiece. Pictures were taken and there were smiles all around. Now, almost 15 years later, they still talk about the Tower.
I loved the bigger LEGO DUPLO Buliding Blocks because … they were bigger, took up more space between the floor and the ceiling. We could really get the towers tall and then watch them sway and hope they don't fall over as we were building. I am still storing boxes and boxes of Legos for the grandkids. When they come to visit we will build towers to the ceilings.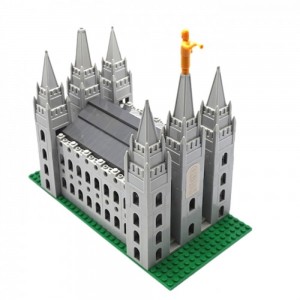 As for the parents of my beautiful grandchildren, I have another Lego project for them to work on, this replica of the Salt Lake LDS Temple. These building sets were created by an LDS couple whose children loved building things with Legos and loved the temple. I am sure that putting this building set together will bring back a lot of great memories of towers to the ceiling.
If you are interested in purchasing the Salt Lake Temple replica with your family, you can purchase by Clicking here to buy now!